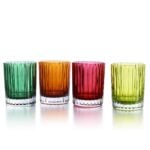 Harmonie colors of joy tumblers x4 Baccarat
Harmonie colors of joy tumblers x4 Baccarat
1000,00 €
Available on back-order
---
10€ discount
Gift in your cart
Shipping free
Harmonie, the contemporary collection for new taste adventurers, is now being unveiled in color. Four shades, vibrant, intense and festive, are joining the Harmonie line of tumblers. Luminous and transparent, their clear crystal base plays on contrast and highlights their hues, while vertical lines cut into the crystal, vary their intensity. From joyful to infinitely cheerful.
Set of 4 Harmonie tumblers N°2 Baccarat
Color red, emerald green, orange and moss
Tumblers signed Baccarat, with box and certificate of authenticity
A suitable gift packaging – Iconic & Sophisticated
Height : 10,5 cm Diameter : 8,2 cm
DELIVERY TIME

European Union : shipping with GLS, the delivery time is about 5 days.
Outside the European Union : shipping with GLS, the delivery time is about one or two weeks, depending of the custom clearance.
You will receive an email from Vessière Cristaux with all the tracking informations. If you have urgent request, you can call us (+33.3.83.75.10.55) or contact Michaël by WhatsApp (+33.6.17.02.12.25).
WE PROVIDE INSURANCE FOR YOUR ORDER

With more than 138 years of experience, our export team takes the greatest care to package each order. A damaged product? We will send a new one. A lost parcel? We will send a new one. The shipping cost include an insurance break and lost.

CUSTOMER REVIEW
ENJOY TAXFREE

For a delivery outside the European Union, you can pay your order without VAT. Please, use the coupon code FREETAX into your cart.
REVIEWS
RECEIVE A GIFT FOR EACH ORDER

We take care of our customers. For each order, you can select a gift in you cart. More you buy, bigger the gift is. Follow this link to discover the gift list.
WIN FIDELITY POINTS

We reward your fidelity. Each order allows you to win fidelity points, that you can use for your next order. Enjoy extra discount. Don't forget to creat an account or to login into it. Learn more ?
ADDITIONNAL INFORMATIONS

Discover Harmonie colors of joy tumblers x4 Baccarat. Consecutive parallel cuts travel cleanly along the Clear crystal grazing the tumbler from its lip all the way down to its thick base. These lines emphasize the verticality of the tumbler as you sip your quality spirits and mixed drinks. The vertical sweep of the striping is also present on other pieces of the Harmonie collection, which includes highball glasses and a round whiskey decanter.

BACCARAT

A small village surrounded by green forest that gets its fair share of rain. This is the humble setting in which magic has made its home for the last two hundred and fifty years. On 16 October 1764, Louis XV authorized the creation of what would become the prestigious Baccarat crystal works. At the time, the region was weakened by an economic crisis, brought about by the closure in 1760 of the saltworks of the Baccarat castellany, owned by the Bishop of Metz. To remedy the situation, the Bishop, Louis de Montmorency Laval, came up with a bright idea: crystal!

The product had become hugely popular all over Europe. Particularly the crystal manufactured in England and Bohemia, which was prized by royalty and the wealthy classes. The Bishop's lands were densely forested, so an excellent fuel source… but they were also rich in sand and potash, the raw materials of glass manufacture. Monseigneur de Montmorency Laval deferred to Louis XV, asking him to give his blessing to the construction of the factory: "France", wrote the prelate to the king, "is lacking in glassmaking craftsmanship and this is why the products of Bohemia are flowing into it in such large quantities, resulting in an alarming expropriation of funds at the very moment when the kingdom has most grave need of monies to recover from the deadly Seven Years'War."