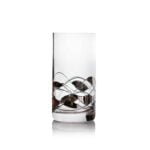 Crystal highball galleria
Sale!
Crystal highball galleria
19,50 € – 22,00 €
Specialist of the size, Cristal de Paris brings a real know-how on every piece. Created in 1970 by Marcel Ferstle, Cristal de Paris is one of the most former, immortalizing the tradition. Every glass is blown mouth, cut hand. Among its clients, great foreign palaces but also French. The crystal factory provides the Bristol Hotel in Paris.
Crystal highball, signed Cristal de Paris
Certificate of authenticity Vessière Cristaux
Height : 14 cm
DELIVERY TIME

European Union : shipping with GLS, the delivery time is about 5 days.
Outside the European Union : shipping with GLS, the delivery time is about one or two weeks, depending of the custom clearance.
You will receive an email from Vessière Cristaux with all the tracking informations. If you have urgent request, you can call us (+33.3.83.75.10.55) or contact Michaël by WhatsApp (+33.6.17.02.12.25).
WE PROVIDE INSURANCE FOR YOUR ORDER

With more than 138 years of experience, our export team takes the greatest care to package each order. A damaged product? We will send a new one. A lost parcel? We will send a new one. The shipping cost include an insurance break and lost.

CUSTOMER REVIEW
ENJOY TAXFREE

For a delivery outside the European Union, you can pay your order without VAT. Please, use the coupon code FREETAX into your cart.
REVIEWS
RECEIVE A GIFT FOR EACH ORDER

We take care of our customers. For each order, you can select a gift in you cart. More you buy, bigger the gift is. Follow this link to discover the gift list.
WIN FIDELITY POINTS

We reward your fidelity. Each order allows you to win fidelity points, that you can use for your next order. Enjoy extra discount. Don't forget to creat an account or to login into it. Learn more ?
ADDITIONNAL INFORMATIONS

CRYSTAL PARIS HIGHBALL GALLERIA :

CRYSTAL PARIS HIGHBALL GALLERIA, 24 % lead crystal, handcrafted in France, signed Crystal Paris. The collection Galeria is an artisanal collection where each glass is unique, varying shapes and colors.

---

♦ CRISTAL DE PARIS :

Cristal de Paris was founded in 1970 by Marcel Ferstler, specialist of carve crystal, their know how has enabled them to export their crystal in over 50 countries. His specialty, the color crystal, hand-cut and blown, is recognized throughout the world. Each piece is dipped in an acid bath, a mix that must be mastered to perfection, expertise guarded by Crystal Paris. A premium brand on the border of luxury brands.

Today, the manufacture of crystal goes according to original techniques. The mixture of sand (silica), potassium carbonate and lead oxide is heated to a temperature of 1450 ° C. The melt is then "cured" for several dozen hours for all the bubbles decomposition of carbonate, which contribute to making the blend, are eliminated. The mixture is then ready to be worked by harvesters, blowers and cutters in the state of the art and know-how of high-end crystal.

---