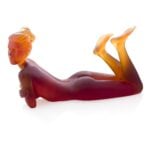 Adelie daum alain choisnet 125 ex
Adelie daum alain choisnet 125 ex
9000,00 €
1 in stock (can be ordered)
For this second collaboration, Alain Choisnet reveals Adélie, a re-edition in Daum crystal of his original work in bronze. Adélie enchants us with her natural charm, her sensual and free attitude, and her tenderness. The sculptures of Alain Choisnet exalt feminine beauty, immortalizing a gesture, an emotion, an attitude, and plunge us into a particular emotion.
In shades of warm and luminous amber, Adélie comes in a limited edition of 125.
Sculpture signed Daum France and Alain Choisnet
Numbered and limited edition of 125 ex
Height : 25 cm Length : 44 cm Width : 14 cm
DELIVERY TIME

European Union : shipping with GLS, the delivery time is about 5 days.
Outside the European Union : shipping with GLS, the delivery time is about one or two weeks, depending of the custom clearance.
You will receive an email from Vessière Cristaux with all the tracking informations. If you have urgent request, you can call us (+33.3.83.75.10.55) or contact Michaël by WhatsApp (+33.6.17.02.12.25).
WE PROVIDE INSURANCE FOR YOUR ORDER

With more than 138 years of experience, our export team takes the greatest care to package each order. A damaged product? We will send a new one. A lost parcel? We will send a new one. The shipping cost include an insurance break and lost.

CUSTOMER REVIEW
ENJOY TAXFREE

For a delivery outside the European Union, you can pay your order without VAT. Please, use the coupon code FREETAX into your cart.
REVIEWS
RECEIVE A GIFT FOR EACH ORDER

We take care of our customers. For each order, you can select a gift in you cart. More you buy, bigger the gift is. Follow this link to discover the gift list.
WIN FIDELITY POINTS

We reward your fidelity. Each order allows you to win fidelity points, that you can use for your next order. Enjoy extra discount. Don't forget to creat an account or to login into it. Learn more ?
ADDITIONNAL INFORMATIONS

Discover Adelie Daum Alain Choisnet, a limited edition of 125 ex.

Alain Choisnet

Self-taught sculptor Alain Choisnet was born in 1962 in Fourgères, France. At an early stage, the diversion of objects and sculpture gave an orientation to his creativity. Having exploited realistic formalization from various materials, sometimes giving birth to monumental sculptures, he now approaches a more expressive figuration. Bronze, by its warmth and nobility, has become his favourite material to convey a more emotional message. His artistic approach tends to suggest to the spectator notions, inspiring calmness and serenity. As femininity seems ideal to him to communicate these qualities, he wishes to offer a soothing vision of women with modesty and sensuality.

2015 would mark the start of a collaboration between the Maison Daum and Alain Choisnet, giving birth to Louison, a tender and elegant sculpture in pink Daum crystal.

Today, Alain Choisnet shares his time between his studio, the foundry and his own gallery in Sézanne, France.