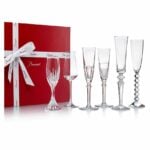 Cocktail – champagne party in a box baccarat
Cocktail – champagne party in a box baccarat
1100,00 €
6 in stock (can be ordered)
---
10€ discount
Gift in your cart
Shipping free
New Baccarat 2017, a selection of flutes so that every day are a party with Baccarat. Several uses are possible like the tasting of champagne & cocktails.
Box of 6 different Baccarat flutes, with box and certificate of authenticity
An exclusive champagne cocktail box that contains iconic Baccarat flutes
A suitable gift packaging – Perfect for different occasions
Mille Nuits Flutissimo / Vega Flutissimo / Harcourt Eve / Diamant / Château Baccarat / Massena
DELIVERY TIME

European Union : shipping with GLS, the delivery time is about 5 days.
Outside the European Union : shipping with GLS, the delivery time is about one or two weeks, depending of the custom clearance.
You will receive an email from Vessière Cristaux with all the tracking informations. If you have urgent request, you can call us (+33.3.83.75.10.55) or contact Michaël by WhatsApp (+33.6.17.02.12.25).
WE PROVIDE INSURANCE FOR YOUR ORDER

With more than 138 years of experience, our export team takes the greatest care to package each order. A damaged product? We will send a new one. A lost parcel? We will send a new one. The shipping cost include an insurance break and lost.

CUSTOMER REVIEW
ENJOY TAXFREE

For a delivery outside the European Union, you can pay your order without VAT. Please, use the coupon code FREETAX into your cart.
REVIEWS
RECEIVE A GIFT FOR EACH ORDER

We take care of our customers. For each order, you can select a gift in you cart. More you buy, bigger the gift is. Follow this link to discover the gift list.
WIN FIDELITY POINTS

We reward your fidelity. Each order allows you to win fidelity points, that you can use for your next order. Enjoy extra discount. Don't forget to creat an account or to login into it. Learn more ?
ADDITIONNAL INFORMATIONS

SET OF 6 CHAMPAGNE FLÛTES BACCARAT :

SET OF 6 CHAMPAGNE FLÛTES BACCARAT, New Baccarat 2017, a selection of flutes so that every day are a party with Baccarat. Several uses are possible like the tasting of champagne & cocktails.

---

♦ BACCARAT, SINCE 1764 : 

Since 1764, Baccarat has embodied France's illustrious art de vivre. The international acclaim, the royal patronage and the quantity and quality of the awards won at expositions throughout Paris and Europe have garnered a magnificent reputation for the French firm. Prized for its clarity, detail and beauty of form, Baccarat crystal is the perfect accompaniment to any dinner service.

---

Baccarat is famous for its wonderful crystal paperweights, its superb crystal glass tableware, for 19th century colored lead crystal glass , for beautiful decanters and bottles, and for superb lead crystal sculpturesof animals and birds. The Bohemian/Venician technique of embedding millefiori canes was taken over by Baccarat in the 1840s and their lead crystal glass paperweights with millefiori designs surpass anything produced in that period from Bohemia or Venice.The technique of embedding cameo sulphides in paperweights, was raised to a fine art by Baccarat in the early 19th century, and continues to be used today. The Baccarat company has a reputation as a caring employer of generations of glassworkers. The small town of Baccarat is almost exclusively dependent on this glassworks, and is a delightful place to visit.

---

♦ VESSIERE CRISTAUX : SPECIALIST SINCE 1882 :

The House VESSIERE CRISTAUX Baccarat, specialist of the crystal since 1882, sells retail, Baccarat, Daum, Lalique as well as earthenwares of Lorraine.His founder Justin Vessière father, was a highly skilled engraver beside his master J-B. Simon, among whom several of their masterpieces, made separately or in common, still exist.Justin Vessière, having gone round the world by presenting the manufacturing of Baccarat in numerous exhibitions (since New York and Chicago until Saint Petersburg, via Liverpool and Edinburgh) obtained with his sons the highest rewards for their presentation and their works of engraving on crystals.

---